FIKA Large Wok
Regular price
Sale price
$91.00 USD
Unit price
per
FIKA Large Wok 26cm (10")
A large 26cm flat bottomed wok for the whole family. It can tackle sauteing, stir-frying, deep frying, noodles, pancakes, omelettes, the works! It's comparative to a standard sized wok and is perfect for stir-frying or braising. For Asian cuisine, this wok is a must!

Dimensions: 430 x 260 x 76mm
Capacity: 4L (4.22qt)
Weight: 1.08kg  (2.38lb)
Material: Aluminium Die Casting
Coating: Ceramic Xtrema/ Ecolon

Handle/Knob: Sophora Japonica Wood
Shipping

Due to the weight, please note that we may need to request extra payment for shipping to certain countries/areas. Customs/ Duty Tax not included in the price if ordering from outside Canada.


COURIER UPDATE: Expect delays from all couriers. Delivery times
are not guaranteed. Couriers will not knock to get a signature due to the pandemic. Please track your shipment and watch for delivery. Drivers will leave
the parcel or a pick up notice.*We will not be responsible
for deliveries that are stolen from your front door.
Features & Materials

New Xtrema™ / EcolonTM coating made from natural sand, stone and silica.
Improved durability, scratch resistance and nonstick performance.
Contains NO PFOA, PTFE's, PFA's, lead, cadmium, antimony, or any other heavy metals and hazardous materials!
No hard anodisation.
Convenient and easy to use due to its lightweight and thermal efficiency.
For use with all heat sources: induction, electric, gas, and radiant.
Premium quality - the cookware is manufactured locally in Korea

Designed beautifully - with handles made of real wood (feels great & sturdy in your hands).


You can also use these cooking pans into the oven (up to 250°C/550°F heat).

Each pan/pot has a thick bottom base and thinner walls to draw the heat from the centre to the wall. This ensures that heat gets evenly distributed to the top of the pan - not just concentrated on the bottom.

100% Authentic and Official Neoflam Product

Material: Single Mould Aluminium Die Casting

Coating: Ceramic
Care & Cleaning

Only Hand-washing is recommended
Use only on low to medium heat
250C/ 550F Max Oven Heat (for pieces without wood!)

 

How to care for ceramic cookware: Your definitive guide

Ceramic cookware is lightweight and aesthetically pleasing, with eggs-glide-like-butter nonstick qualities. This is all thanks to a chemical-free coating made from a sand derivative, that is made use of in the design. However, without proper maintenance, ceramic cookware can become warped or lose their finish. To keep your ceramic cookware in tip-top shape, follow our care guide for cooking with and cleaning ceramic cookware.

Prepare to use

After removing all packaging materials and labels, wash the cookware with warm soapy water and wipe with a dry paper towel, to remove dust particles and dirt from manufacturing and shipping. It is ready to use after this initial washing.

Cook on medium to low heat

To increase the longevity of your cookware's nonstick surface, you should always use the right heat settings and burner size on your stove-top to avoid damage from overheating. Food will stick at high heat, or if you have damaged the coating.

Use only safe utensils

Avoid using harsh scourers such as metal utensils, as the coating may chip or scratch. Only use wooden utensils with ceramic cookware, preferably bamboo forks and spoons.

Never use cooking oil sprays

Never use cooking spray, as it may allow residue to build up. As this residue grows, the pot or pan starts to lose some of its nonstick properties. Rather add a small amount of butter or oil to the pan before each use. Your food will effortlessly glide on your ceramic pans, so less is more when it comes to oil or butter. 1-2 tablespoons is more than enough to lightly coat the entire pan surface. Allow 20-30 seconds to pre-heat before you add food


Do not let your pans go from cold to hot or vice versa too quickly

Let your cookware cool off before hand washing it. Adding cold water to a hot pot or pan can damage the nonstick coating, and crack ones made of solid ceramic.

Always wash by hand

Ceramic cookware is usually dishwasher safe. However, due to the risk of chipping, hand washing is still the recommended option. Hand wash your cookware with a soft sponge or cloth. If food gets stuck onto the surface, fear not! Simmer soapy water over a low heat then gently scrape away with a sponge or non-abrasive scrubber. Rinse and repeat if needed.The outside can be scrubbed lightly with a bicarb vinegar solution if it gets discoloured.

Store the cookware safely

Store your cookware separate to other pots and pans. This means do not stack it, unless it is stored by placing paper napkins or pan protectors between it and the other cookware to protect its surfaces.

Care for the wood


Do not place the wooden parts of your cookware in the dishwasher as this will cause cracking and remove the shine and finish. Do not put wooden handles or knobs in the oven or on top of an open flame as they will burn. Edible wood oil can be used renew your woods shine if it has been placed in a dishwasher by accident.

The wooden handles are attached by a screw inside the hole, if the screw is loose use a long screwdriver to tighten it.

 
Share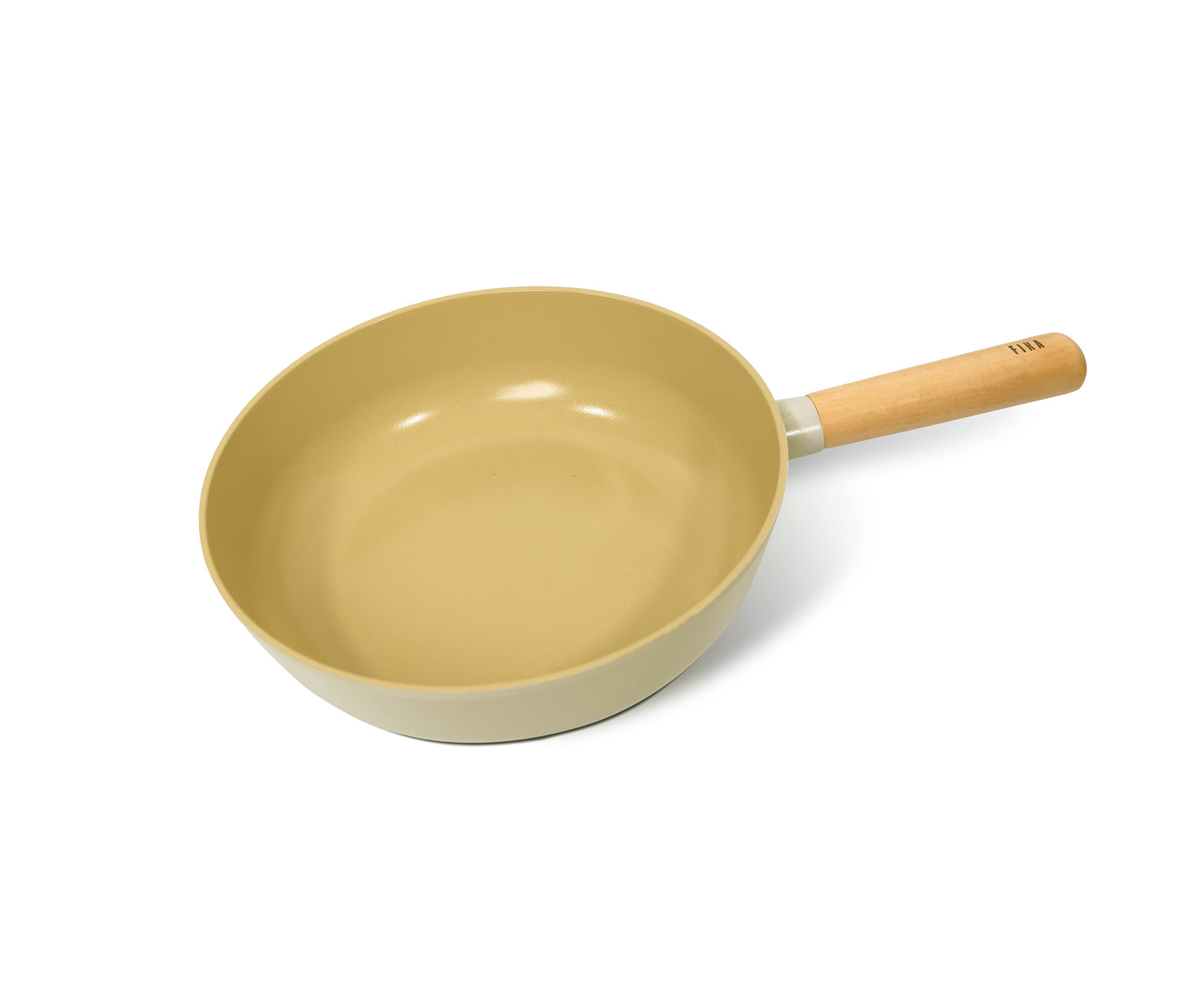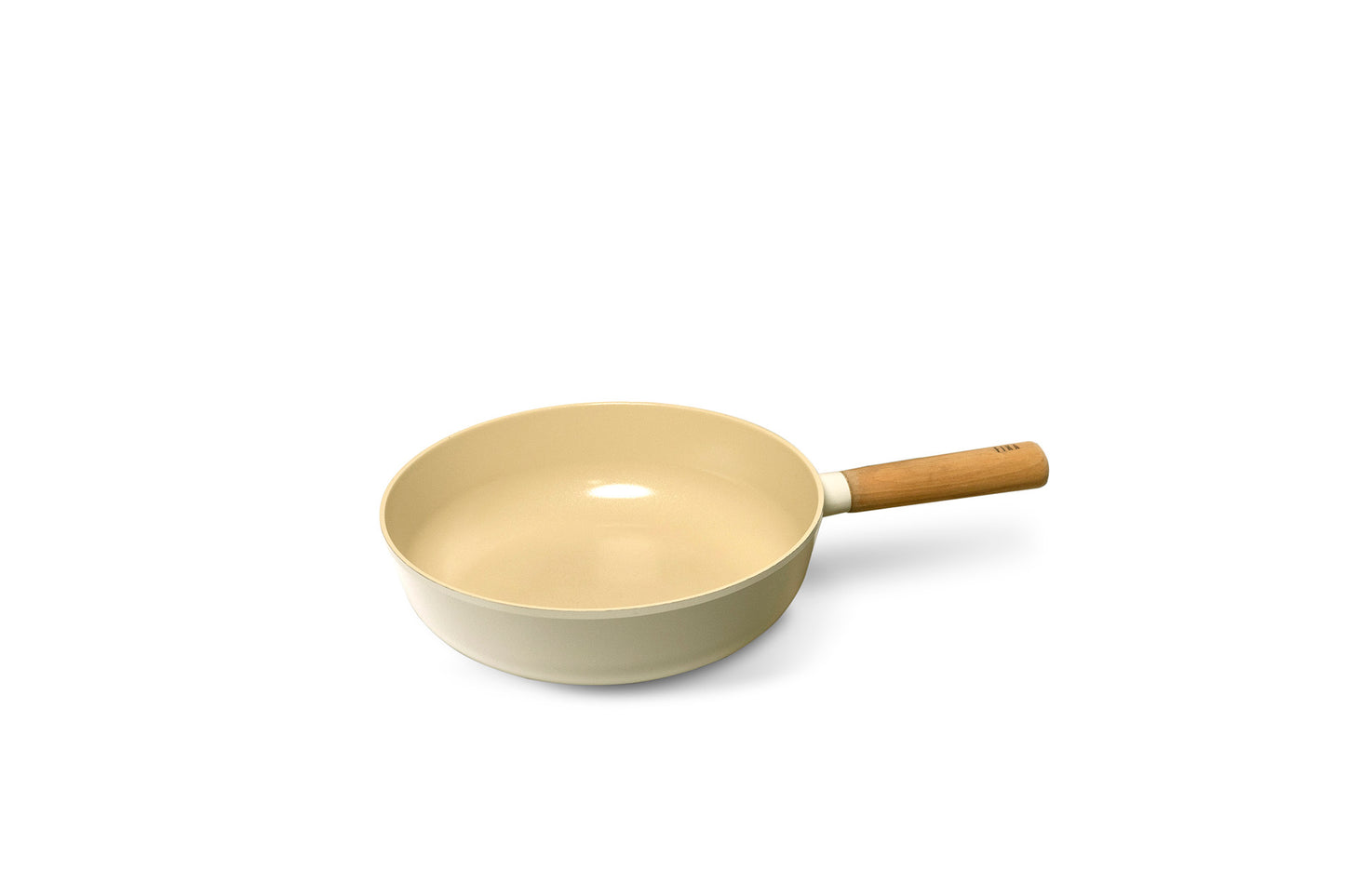 The non-stick pan stopped working after 3 uses
I bought both large and small wok in early June. The large wok works amazing and allows me to handle delicate food without issues. The small wok however loses the non-stick quality after only two uses. Now I can't make fried egg without breaking it. I followed all the care instructions - cook on low heat and not washing it while the pan is still hot. Inconsistent quality perhaps?
UPDATE after receiving company response: I do know that this is not a oil-less cooking pan. Rest assured that I've tried adding more oil and that didn't help the situation. As I said I have both a large wok and a small wok purchased at the same time and I have no issue with the large wok. And when I compared the two, I could see that the small wok is less shiny and not as smooth (after just 4 uses and the coating is already gone??) I believe this is a defective product. This wok is not cheap so I'm quite disappointed that I got a lemon.
Let me reiterate - the large wok is beautiful and works just as expected. However this company doesn't have satisfaction guarantee or warranty like the other more reputable / established brands. So good luck!!!
Hi Bernice, I advise using adequate oil in the pans, on the low heat setting for eggs; they are not oil-less cooking pans.
Beautiful and practical
I had bad experiences with non-sticky pan, FIKA gave me a whole new experience and it's design is beautiful.